Passover in our house is hardly traditional. I was raised as a cultural Jew, but not religious. We didn't go to services. So I never really learned the rules, prayers, and traditions. In our house, the Jewish holidays involve traditions that I created- that are meaningful to me, my family, and my loved ones who are included.
This year I want to share my most precious Passover Recipe. It's for Charoseth, which symbolizes the mortar enslaved Jews used to build the pyramids. The recipe belonged to an extraordinary woman I had the privilege of caring for over 30 years until her death a couple of years ago.

Gisele was born in Egypt and moved to Paris, Montreal, and finally, Philadelphia. She was an athlete, a vegetarian long before it was common, multi-lingual, warm, and joyous. Over the years, we grew as close as a family. 
Every year, she would gift me a jar of her Charoseth, a Sephardic recipe I imagine she learned from her mother. Every year I'd ask her how she made it, and she'd say, "Oh, I put some dates in the water with some cinnamon. Maybe some lemon. Sometimes I add wine…..". The recipe of course, lived in her head. As good a cook as I am, I couldn't nail it. When she passed away, the idea of a seder without her Charoseth on the table made me want to "quit Passover."
Thankfully, her family managed to write down her method. So when I made it last year, I said, "Gisele- you gotta help me out." And you know what? It was really close. She would have been proud of me.
Here's the recipe. I hope you love it as much as I do. 
May we all be happy and free.
With Love,
Cara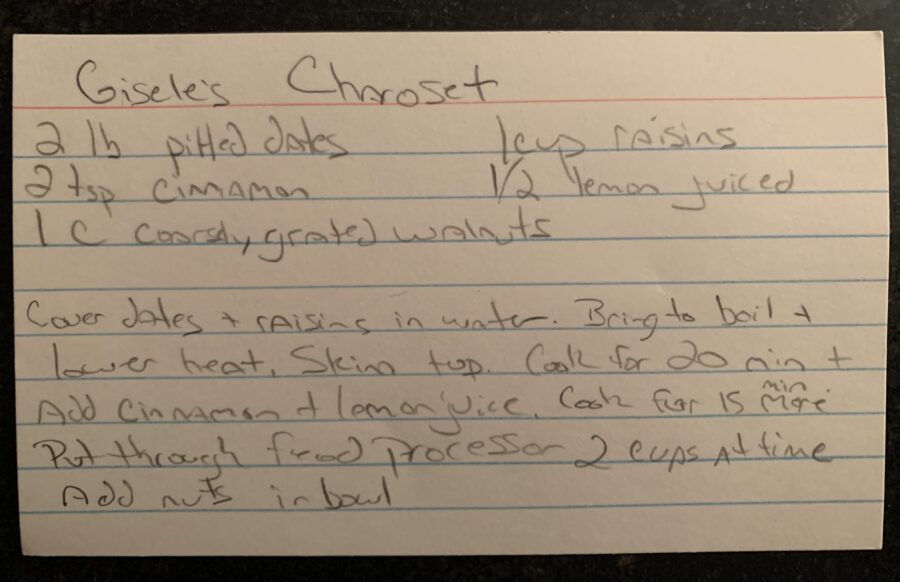 2 lbs pitted dates
2 tsp. ground cinnamon
1 cup raisins
juice of half a lemon
One cup coarsely chopped walnuts.
Place the dates and raisins in a pot and cover them with water. Bring to a boil and then lower to a simmer. Skin the top when you see foam appear. Simmer for 20 minutes, and then add the cinnamon and lemon juice.
Cook for another 15 minutes and then place in a food processor, using the pulse button to puree it. Only puree 2 cups at a time. Save the cooking water.
Fold in the chopped walnuts. If the mixture is too firm, add some cooking water to loosen it up.
You can make this far in advance, and it freezes beautifully.
Schmear it on matzo and horseradish and enjoy.
Notes: You can add red wine, sherry, or Madeira to the cooking water. I also added a slice of lemon peel to the dates, which I removed before pureeing.
Please don't make my mistake of putting the walnuts in the food processor. It becomes an unappealing paste.